TEACHER WRITER VIRTUAL RETREAT
Virtual Writers
"We do not write because we want to; we write because
w
e have to."
—W. Somerset Maugham
---
As teachers who are also writers, finding the quiet and time to write is often a major obstacle. And although we excel at praising our students' works and encouraging them to plunge onward, to keep writing and not get discouraged, we often allow ourselves to put our own writing aside and consider it a "hobby." For these reasons, the CWP has been successfully providing Writers' Retreats for CWP members since 1990.
Each Writing Retreat has provided the quiet, the time, and the luxury of sharing writing and companionship with other writers. Participants leave energized and recommitted to their work, looking forward to the next retreat.
---
Due to Covid-19, all Saturday workshops will be virtual
Here's how our virtual workshop will work:
Respond to Danielle Pieratti at dpieratti@swindsor.k12.ct.us indicating you'd like to attend. Daniedlle will add your email address to the invite list for a Saturday Google Meet.

At 9:30 a.m. on Saturday, Danielle will send out a link for a Google Meet to everyone who responded.

Between 9:45 and 10:00 participants will have a "check-in" to say hello, introduce ourselves, catch up, etc., and Danielle will share an optional writing prompt.

From 10:00-11:00 everyone willl write. Danielle will keep the Google Meet open for anyone who wants to remain online while writing, with or without video and audio.

At 11:00 the group will reconvene for a read-around and feedback.
The remaining dates for the Saturday Teacher Writer workshops are: Oct. 29th, Nov. 19th, Dec. 10th, Jan. 21st, Feb. 25th, Mar. 25th, Apr. 22nd & May 20th.
We have an obligation to ourselves as artists to provide ourselves with an atmosphere that will encourage us to be serious about our work.
All writers are invited to join us. The past Writers Retreats have produced every type of writing, from personal narrative to fiction and poetry. The main goal of the retreat is to provide overworked teachers the much needed time and space to pursue their art. The agenda, therefore, is open. The Writing Retreat weekends have all been very special. We look forward to seeing old friends and new.
Please note:  Participants in the Writing Retreat are encouraged to submit writing to the Teacher-Consultant writing contest in the fall and are also eligible to have a piece of writing published in the Teacher-Writer magazine in the Teacher-as-Writer & Writers Retreat Contributions. Link this to Teacher-Writer.
To register or for more information contact Danielle Pieratti, CWP Writing Programs Leader, at dpieratti@swindsor.k12.ct.us.
---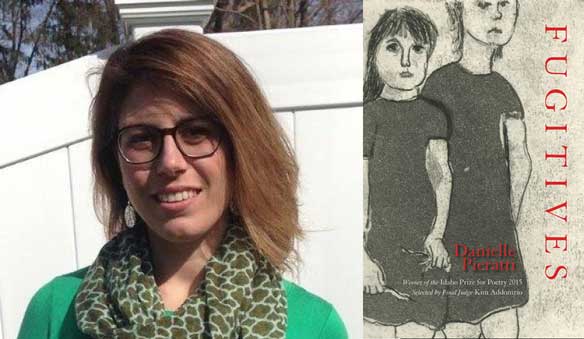 About the Retreat Leader: 
Danielle Pieratti teaches English at South Windsor High School. Her first book, Fugitives, was selected by Kim Addonizio for the Idaho Prize in poetry, and was published by Lost Horse Press in 2016.  It was also nominated for the 2017 CT Book Awards.