The Equity and Social Justice Reading Group is intended for English majors interested in situating literature at the center of discussions about equity and social justice. Most involved students in years one and two had an interest in secondary education, but that is not a requirement for involvement. The theme of this year's readings is race, gender, and intergenerational rage in BIPOC fiction. We will examine texts that explore how our identity, community, and public memory affect our ability to dream, future-gaze, and experience grief and trauma. By intentionally reading diverse narratives in literature, we aim to better understand ourselves, process our intersecting histories and struggles, and imagine our future.
Readings in year one (2020-21) focused primarily on Afrofuturism. Readings in year two (2021-22) focused on books that involved police violence against people of color. Last year's readings (2022-23) were Queer texts that center the LGBTQIA+ community. Our goal is to read at least two books a semester.
The books will be purchased for you with a grant from the College of Liberal Arts and Sciences Diversity, Equity, and Inclusion program.
The ESJ Reading Group grew from Professor Jason Courtmanche and doctoral candidate Kiedra Taylor's inductions into the honor society Phi Kappa Phi (PKP), which is dedicated to service and leadership. Bringing this group to students is our way of offering service and promoting student leadership.
The ESJ RG is student-centered. Professor Courtmanche and GA Kiedra Taylor will suggest books and facilitate discussions, but ultimately, students will make the final decisions on which books to read and drive the bi-weekly discussions.
We will meet every other Friday from 4-5 pm in the Stern Lounge (Austin 217). Meeting dates for Fall 2023 are September 1, September 15, September 29, October 13, October 27, November 10, November 16, and December 1. Meeting dates for Spring 2024 are January 19,  February 2, February 16, March 1, March 22, April 5, April 21, and April 26. 
Please email Professor Courtmanche at jason.courtmanche@uconn.edu if you are interested in joining us!
Fall 2023 and Spring 2024: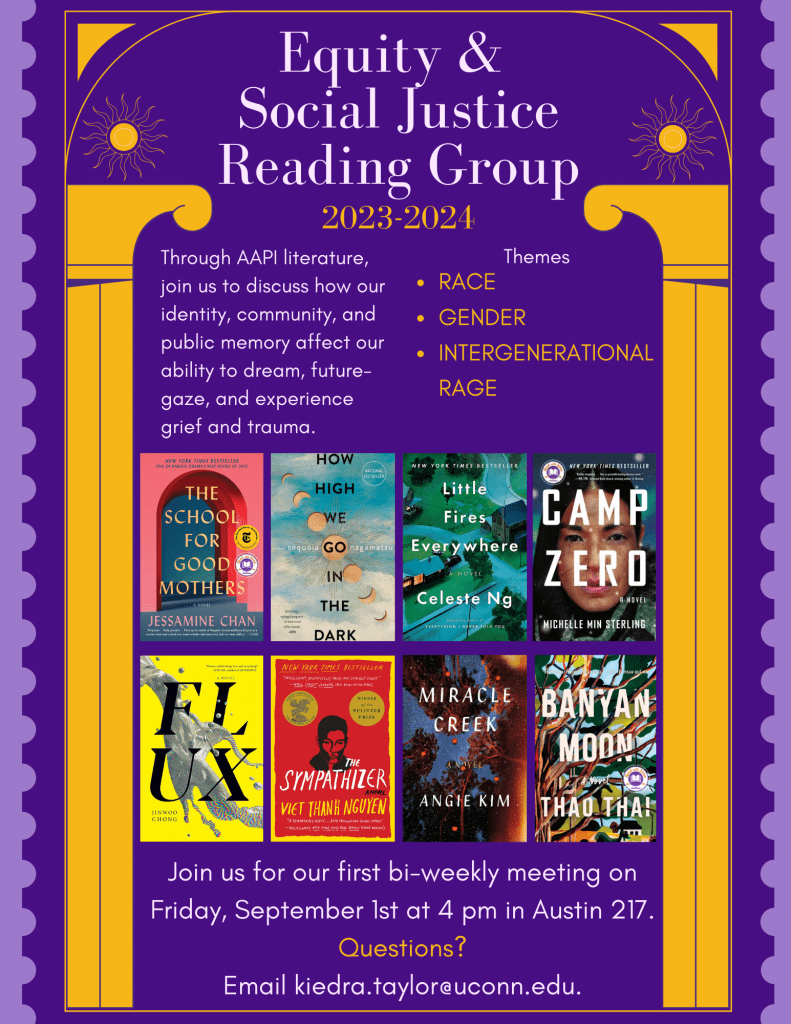 The School for Good Mothers by Jessamine Chan (dystopian)
How High We Go in the Dark by Sequoia Nagamatsu (climate fiction)
The Cartographers by Peng Shepherd (mystery)
Little Fires Everywhere by Celeste Ng (fiction)
Dust Child by Nguyen Phan Qué Mai (historical fiction)
Camp Zero by Michelle Min Sterling (climate fiction)
Flux by Jinwoo Chong (science fiction)
The Sympathizer by Viet Thanh Nguyen (historical fiction)
The Leavers by Lisa Ko (fiction)
Miracle Creek by Angie Kim (science fiction)
Banyan Moon by Thao Thai (historical fiction)
Fall 2022 and Spring 2023:
George by Alex Gino
"When people look at George, they think they see a boy. But she knows she's not a boy. She knows she's a girl.

George thinks she'll have to keep this a secret forever. Then her teacher announces that their class play is going to be Charlotte's Web. George really, really, REALLY wants to play Charlotte. But the teacher says she can't even try out for the part . . . because she's a boy.

With the help of her best friend, Kelly, George comes up with a plan. Not just so she can be Charlotte - but so everyone can know who she is, once and for all".

Description by:

Stamped: Racism, Antiracism, and You

by Ibram X. Kendi and Jason Reynolds

"The construct of race has always been used to gain and keep power, to create dynamics that separate and silence. This remarkable reimagining of Dr. Ibram X. Kendi's National Book Award-winning

Stamped from the Beginning

 reveals the history of racist ideas in America, and inspires hope for an antiracist future. It takes you on a race journey from then to now, shows you why we feel how we feel, and why the poison of racism lingers. It also proves that while racist ideas have always been easy to fabricate and distribute, they can also be discredited.

Through a gripping, fast-paced, and energizing narrative written by beloved award-winner Jason Reynolds, this book shines a light on the many insidious forms of racist ideas--and on ways readers can identify and stamp out racist thoughts in their daily lives".

Description by:

STAMPED: Racism, Antiracism, and You — IXK. (ibramxkendi.com)
All American Boys

by Jason Reynolds and Brendan Kiely

"Rashad Butler and Quinn Collins are two young men, one black and one white, whose lives are forever changed by an act of extreme police brutality. Rashad wakes up in a hospital. Quinn saw how he got there. And so did the video camera that taped the cop beating Rashad senseless into the pavement. Thus begins 

ALL AMERICAN BOYS

, written in tandem by two of our great literary talents, Jason Reynolds and Brendan Kiely. The story is told in Rashad and Quinn's alternating perspectives, as they grapple with the complications that spin out of this violent moment and reverberate in their families, school, and town. Over the course of one week, Rashad tries to find the strength to accept his role as the symbolic figure of the community's response to police brutality, and Quinn tries to decide where he belongs in a town bitterly divided by racial tension.  Ultimately, the two narratives weave back together, in the moment in which the two boys, now changed, can actually see each other—the first step for healing and understanding in a country still deeply sick with racial injustice. Reynolds pens the voice of Rashad, and Kiely has taken the voice of Quinn".

Description by:

Speak

by Laurie Halse Anderson

"From the first moment of her freshman year at Merryweather High, Melinda knows this is a big fat lie, part of the nonsense of high school. She is friendless, outcast, because she busted an end-of-summer party by calling the cops, so now nobody will talk to her, let alone listen to her. As time passes, she becomes increasingly isolated and practically stops talking altogether. Only her art class offers any solace, and it is through her work on an art project that she is finally able to face what really happened at that terrible party: she was raped by an upperclassman, a guy who still attends Merryweather and is still a threat to her. Her healing process has just begun when she has another violent encounter with him. But this time Melinda fights back, refuses to be silent, and thereby achieves a measure of vindication.

In Laurie Halse Anderson's powerful novel, an utterly believable heroine with a bitterly ironic voice delivers a blow to the hypocritical world of high school. She speaks for many a disenfranchised teenager while demonstrating the importance of speaking up for oneself".

Description by:

The Absolutely True Diary of a Part-Time Indian

by Sherman Alexie

"Bestselling author Sherman Alexie tells the story of Junior, a budding cartoonist growing up on the Spokane Indian Reservation. Determined to take his future into his own hands, Junior leaves his troubled school on the rez to attend an all-white farm town high school where the only other Indian is the school mascot.

Heartbreaking, funny, and beautifully written, The Absolutely True Diary of a Part-Time Indian, which is based on the author's own experiences, coupled with poignant drawings by Ellen Forney that reflect the character's art, chronicles the contemporary adolescence of one Native American boy as he attempts to break away from the life he was destined to live".

Description by:

The Absolutely True Diary of a Part-Time Indian by Sherman Alexie (goodreads.com)

The Hate U Give

by Angie Thomas

"Sixteen-year-old Starr Carter moves between two worlds: the poor neighborhood where she lives and the fancy suburban prep school she attends. The uneasy balance between these worlds is shattered when Starr witnesses the fatal shooting of her childhood best friend Khalil at the hands of a police officer. Khalil was unarmed.

Soon afterward, his death is a national headline. Some are calling him a thug, maybe even a drug dealer and a gangbanger. Protesters are taking to the streets in Khalil's name. Some cops and the local drug lord try to intimidate Starr and her family. What everyone wants to know is: what really went down that night? And the only person alive who can answer that is Starr.

But what Starr does—or does not—say could upend her community. It could also endanger her life".

Description by:
The Hate U Give - Angie Thomas

Beyond Magenta: Transgender Teens Speak Out

by Susan Kuklin

"Author and photographer Susan Kuklin met and interviewed six transgender or gender-neutral young adults and used her considerable skills to represent them thoughtfully and respectfully before, during, and after their personal acknowledgment of gender preference. Portraits, family photographs, and candid images grace the pages, augmenting the emotional and physical journey each youth has taken. Each honest discussion and disclosure, whether joyful or heartbreaking, is completely different from the other because of family dynamics, living situations, gender, and the transition these teens make in recognition of their true selves".

Description by:

Beyond Magenta: Transgender Teens Speak Out by Susan Kuklin (goodreads.com)

Drama

written and illustrated by Raina Telgemeier

"From Raina Telgemeier, the #1 New York Times bestselling, multiple Eisner Award-winning author of Smile and Sisters!Callie loves theater. And while she would totally try out for her middle school's production of Moon over Mississippi, she can't really sing. Instead she's the set designer for the drama department's stage crew, and this year she's determined to create a set worthy of Broadway on a middle-school budget. But how can she, when she doesn't know much about carpentry, ticket sales are down, and the crew members are having trouble working together? Not to mention the onstage AND offstage drama that occurs once the actors are chosen. And when two cute brothers enter the picture, things get even crazier"!

Description by:

The Black Friend: On Being a Better White Person by Frederick Joseph
"From the perspective of the friend everyone should have, Frederick Joseph offers an essential read for white people who want to be better about race—and people of color who long to see their experiences validated."

Description by:

https://www.goodreads.com/en/book/show/48589165-the-black-friend
The Anti-Racist Writing Workshop by Felicia Rose Chavez
"

Together let's dispel the myth of scarcity: That there aren't any quality writers of color out there. Follow the link to access—and add to—an ever-evolving, multi-genre compilation of contemporary writers of color and progressive online publishing platforms. This living document is intended as a dynamic educational resource and springboard for further research. Call it recommended reading."

Description by:

Letting Go of Literary Whiteness by Carlin Borsheim-Black and Sophia Tatiana Sarigiandes
"Rooted in examples from their own and others' classrooms, the authors offer discipline-specific practices for implementing antiracist literature instruction in White-dominant schools. Each chapter explores a key dimension of antiracist literature teaching and learning, including designing literature-based units that emphasize racial literacy, selecting literature that highlights voices of color, analyzing Whiteness in canonical literature, examining texts through a critical race lens, managing challenges of race talk, and designing formative assessments for racial literacy and identity growth."

Description by:

https://www.tcpress.com/letting-go-of-literary-whiteness-9780807763056
This is My America by Kim Johnson

"Every week, seventeen-year-old Tracy Beaumont writes letters to Innocence X, asking the organization to help her father, an innocent Black man on death row. After seven years, Tracy is running out of time–her dad has only 267 days left. Then the unthinkable happens. The police arrive in the night, and Tracy's older brother, Jamal, goes from being a bright, promising track star to a "thug" on the run, accused of killing a white girl. Determined to save her brother, Tracy investigates what really happened between Jamal and Angela down at the Pike. But will Tracy and her family survive the uncovering of the skeletons of their Texas town's racist history that still haunt the present?"

Description by:

https://www.penguinrandomhouse.com/books/608329/this-is-my-america-by-kim-johnson/
Below is the list of texts from 2020-21: 
Text

Descriptions


Whenever we envision a world without war, prisons, or capitalism, we are producing speculative fiction. Organizers and activists envision, and try to create, such worlds all the time. Walidah Imarisha and adrienne maree brown have brought 20 of them together in the first anthology of short stories to explore the connections between radical speculative fiction and movements for social change. These visionary tales span genres—sci-fi, fantasy, horror, magical realism—but all are united by an attempt to inject a healthy dose of imagination and innovation into our political practice and to try on new ways of understanding ourselves, the world around us, and all the selves and worlds that could be. Also features essays by Tananarive Due and Mumia Abu-Jamal, and a preface by Sheree Renée Thomas.

 

Ghana, eighteenth century: two half sisters are born into different villages, each unaware of the other. One will marry an Englishman and lead a life of comfort in the palatial  rooms of the Cape Coast Castle. The other will be captured in a raid on her village, imprisoned in the very same castle, and sold into slavery.

Homegoing follows the parallel paths of these sisters and their descendants through eight generations: from the Gold Coast to the plantations of Mississippi, from the American Civil War to Jazz Age Harlem. Yaa Gyasi's extraordinary novel illuminates slavery's troubled legacy both for those who were taken and those who stayed—and shows how the memory of captivity has been inscribed on the soul of our nation.

Pecola Breedlove, a young black girl, prays every day for beauty. Mocked by other children for the dark skin, curly hair, and brown eyes that set her apart, she yearns for normalcy, for the blond hair and blue eyes that she believes will allow her to finally fit in. Yet as her dream grows more fervent, her life slowly starts to disintegrate in the face of adversity and strife. A powerful examination of our obsession with beauty and conformity, Toni Morrison's virtuosic first novel asks powerful questions about race, class, and gender with the subtlety and grace that have always characterized her writing.

 

The Dark Fantastic is an engaging and provocative exploration of race in popular youth and young adult speculative fiction. Grounded in her experiences as YA novelist, fanfiction writer, and scholar of education, Thomas considers four black girl protagonists from some of the most popular stories of the early 21st century: Bonnie Bennett from the CW's The Vampire Diaries, Rue from Suzanne Collins's The Hunger Games, Gwen from the BBC's Merlin, and Angelina Johnson from J.K. Rowling's Harry Potter. Analyzing their narratives and audience reactions to them reveals how these characters mirror the violence against black and brown people in our own world.

Before leaving, City is given a strange book without an author called "Long Division." He learns that one of the book's main characters is also named City Coldson—but "Long Division" is set in 1985. This 1985 City, along with his friend and love-object, Shalaya Crump, discovers a way to travel into the future, and steals a laptop and cellphone from an orphaned teenage rapper called...Baize Shephard. They ultimately take these with them all the way back to 1964, to help another time-traveler they meet protect his family from the Klan.

Morrison shows how much the themes of freedom and individualism, manhood and innocence, depended on the existence of a black population that was manifestly unfree--and that came to serve white authors as embodiments of their own fears and desires. According to the Chicago Tribune, Morrison "reimagines and remaps the possibility of America." Her brilliant discussions of the "Africanist" presence in the fiction of Poe, Melville, Cather, and Hemingway leads to a dramatic reappraisal of the essential characteristics of our literary tradition.

When global climate change and economic crises lead to social chaos in the early 2020s, California becomes full of dangers, from pervasive water shortage to masses of vagabonds who will do anything to live to see another day. Fifteen-year-old Lauren Olamina lives inside a gated community with her preacher father, family, and neighbors, sheltered from the surrounding anarchy. In a society where any vulnerability is a risk, she suffers from hyperempathy, a debilitating sensitivity to others' emotions.

In 2032, Lauren Olamina has survived the destruction of her home and family, and realized her vision of a peaceful community in northern California based on her newly founded faith, Earthseed. The fledgling community provides refuge for outcasts facing persecution after the election of an ultra-conservative president who vows to "make America great again." In an increasingly divided and dangerous nation, Lauren's subversive colony--a minority religious faction led by a young black woman--becomes a target for President Jarret's reign of terror and oppression.

Years later, Asha Vere reads the journals of a mother she never knew, Lauren Olamina. As she searches for answers about her own past, she also struggles to reconcile with the legacy of a mother caught between her duty to her chosen family and her calling to lead humankind into a better future.

Originally published in 1952 as the first novel by a then unknown author, it remained on the bestseller list for sixteen weeks, won the National Book Award for fiction, and established Ralph Ellison as one of the key writers of the century.

The book's nameless narrator describes growing up in a black community in the South, attending a Negro college from which he is expelled, moving to New York and becoming the chief spokesman of the Harlem branch of "the Brotherhood", before retreating amid violence and confusion to the basement lair of the Invisible Man he imagines himself to be. 

The book is a passionate and witty tour de force of style, strongly influenced by T.S. Eliot's The Waste Land, James Joyce, and Dostoevsky.