Congratulations to our Scholastic National Award Winners
9th Grade
Gold Medal: Jessice Zhao, Choate-Rosemary Hall School, David Loeb – Meditation for Beginners 
Silver Medal: Jordan Hines, Educational Center for the Arts, Bruce Cohen – Pickled Lemons
10th Grade
Silver Medal: Matthew Breier, Hopkins School, Benjamin Johnson – Venom
11th Grade 
Gold Medal: Samuel Frank, William H Hall High School, Scott Ferguson – Gatsby's Last Laugh 
Silver Medal: Esther An, Choate-Rosemary Hall School, Lena Nicolai – To the little boy in yellow rainboots from the girl who ran away
Silver Medal: Ryan Cho, Choate-Rosemary Hall School, Janet De Leon – America's Municipal Solid Waste Problem
12th Grade
Gold Medal and American Voices Award: Ana Paula Padilla Castellanos, Educational Center for the Arts, Saul Fussiner –  Come to the Water
Gold Medal: Julia Dubel, Choate-Rosemary Hall School, Brooke Fichera – Fatal Attraction
Silver Medal: Eleanor Peters, Loomis Chaffee School, Kate Saxton – Out of the Mouth
Silver Medal: Tirion Rodger, Educational Center for the Arts, Saul Fussiner – Your Life Aquatic
Connecticut Writing Awards Regional Scholastic Site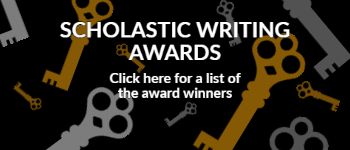 Regional Scholastic Teacher Awards

Congratulations to our American Voices Nominees
Samuel Frank – Gatsby's Last Laugh 
Junior at William H. Hall – Teacher: Scott Ferguson
Samuel Frank is a junior and one of Scott Ferguson's students at William H. Hall High School. To him, writing is all about thinking and a way to communicate complicated thoughts and feelings that need to be shared and debated. His inspiration is Northrop Fyre, particularly his "Don't You Think It's Time to Start Thinking?" essay. This essay completely changed Samuel's way of thinking about writing. He also cites George Orwell and Jason Gay as influences. After high school, he is considering majoring in economics but will continue his love for writing. He originally wrote this piece as a school assignment. In it, he argues that Jay Gatsby killed Dan Cody. He believes that this argument "contributes to a fuller and more accurate portrayal of Gatsby's era, balancing his romanticism with the reality of his criminal past."
Meghan McAuliffe – Uncounted For 
Junior at Rockville High School – Teacher: Vicky Nordlund
Meghan plays football, cheerleads, mentors in Unified Sports, and works part-time. Her inspiration for this piece came from a science fiction unit in class where she decided to take concepts from "The Quiet Place" and "Vox" into her own style of writing. Meghan says, "Writing is a way to express yourself". With three brothers, a busy after-school schedule, and a job in childcare, Meghan is always surrounded by people. She plans to apply to UConn in the hopes of becoming an elementary teacher through the Neag School of Education. "It is so exciting to see [preschoolers] learning to express themselves through words and pictures at such a young age!" she marvels. In life and in her writing, it is clear Meghan has both the talent and the passion for the art of language. Read her work, Uncounted For, where she explores in a remarkably creative, science fan-fiction piece what it's like for women to have their voices taken away…literally. Congratulations are in order to Meghan and Ms. Nordlund for representing our state in this year's Scholastic Writing Contest.
Tommy Rhoades – Glass District 
Senior at Rockville High School – Teacher: Vicky Nordlund 
Tommy's piece is a part of a larger work analyzing the wealth inequality in America. He cited John Steinbeck as his influence in this story.  To Tommy, being an author "means voicing an issue, and relaying  morals through imaginative pathways." He believes that a child reading the Harry Potter series can be as educational as reading a math textbook. As you can see in his short story, he thinks books should be a way to address "contemporary issues in the abstract." Overall, this piece is about the comfort people feel when they are in a bubble of privilege; they forget the people outside of the bubble. Tommy is working against the phrase "you can't save everyone." He believes you should never lose hope and that there is always something you can do.
Eleanor Peters – House Party on a Summer Night 
Senior at Loomis Chaffee High School – Teacher: Kate Saxton
Eleanor derived inspiration from personal experience and conveyed feelings of discomfort and connection in her poem. Her unique voice and artistic style in her poem rely heavily on setting and place, which are features Eleanor describes as important in her compositions. Along with being an accomplished reader and writer, she will be attending Brown University in the Fall to study English. In her free time, Eleanor enjoys reading fiction. Some of her favorite and influential authors include John Irving (particularly his novel A Prayer for Owen Meany), Seamus Heaney, Edgar Allan Poe, Flannery O'Connor, and Robert Frost. Eleanor hopes to pursue many creative writing classes at Brown to continue practicing her passion and hone her skills. "Writing is a method of artistic expression that allows both reflection and creation," she says. "I like to blend elements of life and imagination into a narrative that reveals something deeper, but that also is appealing and entertaining to readers." Eleanor is incredibly proud to receive such recognition for her poetry. It encourages her to continue doing what she loves.
Congratulations to Our American Voices Award Winner
Ana Paula Padilla Castellanos – Come to the Water 
Senior at Wilbur Cross High School/Educational Center for the Arts – Teacher: Saul Fussiner
Ana's family moved apartments the summer of her junior year, which reminded her of their first move to New Haven, CT. The difficult emotions that accompanied both of these journeys inspired her to write "Come to the Water." She uses writing as an outlet to feel grounded, which is why this piece expresses her love for her roots. Ana admires Gabriel García Márquez, a Colombian novelist, short story writer, screenwriter, and journalist. She particularly appreciates his "use of magical realism," commenting that his novel Cien Años de Soledad is her favorite book. She also cites past teachers and classmates for having a notable and positive impact on her writing style. Ana is an extremely talented and driven young writer and will be attending Yale University in the Fall. She plans to study comparative literature and/or history and wants to continue developing her writing during her time as a college student. Outside of writing, her other hobbies include cooking, which she says is a "fun medium I've been able to use to feel connected to my past in Guatemala, and also learn about the exciting recipes and possibilities my presence in the U.S. holds."